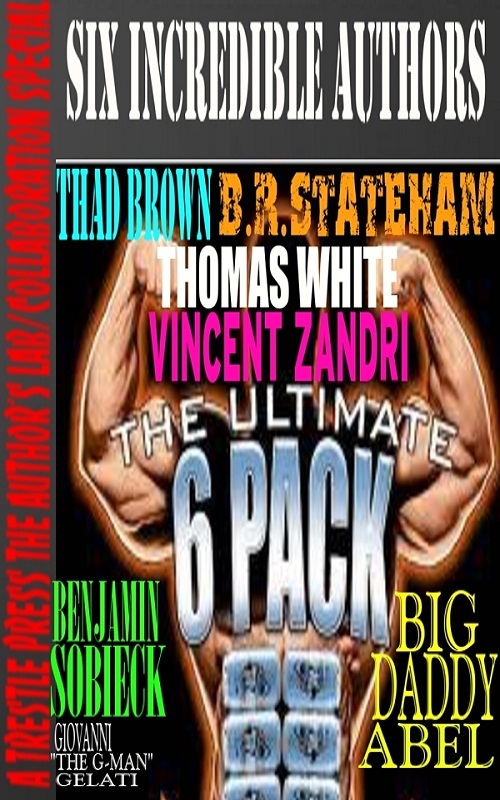 When the trained chimps at Trestle Press approached me with the idea of "The Ultimate Six-Pack," I said, "I didn't know you had a liquor license." After explaining why my lame sense of humor should be illegal, it was revealed that this six-pack would involve 16 works from six authors affiliated with Trestle Press.
Which ones? Vincent Zandri, Thomas White, B.R. Stateham, Giovanni Gelati, Thad Brown, Big Daddy Abel and me. Actually, that's seven, but I don't think Giovanni counted himself. No bother, we're writers, not accountants. No matter how you do the math, readers come out on top. Here's the description:
Why call it "Six-Pack" when you are actually getting 16 different stories! Good question! The Author's Lab/Collaboration series hosted by Trestle Press has taken on a life of its own and is going places and doing things that no one had imagined. Contained in this incredibly content rich download are not just the first six installments of the series but 6 more short stories, one by each of the contributing authors. Hold on, we aren't done yet; there are the opening chapters of four full length novels for you to sample. 16 stories in total, one great download from 6 authors that had a blast creating innovative, intense, action packed, humorous content for you the reader.
Here is the lineup of author's and the stories they have contributed:
Vincent Zandri- "Down Low-Dead" and "Burn It"
Big Daddy Abel- "The Jersey Shore Has Eyes'- and "Open Mic Volume One"
Thomas White- "G.S.I. Gelati's Scoop Investigations Psychotic Detectives", "Hunter" and the beginning of the full length novel "Justice Rules"
Benjamin Sobieck- "Who Whacked The Blogger" and the beginning of the full length novel "Cleansing Eden"
Thad Brown-"Thad and The G-Man's Most Awesome Adventure" and "Cops and Robbers" from the Smoking Gun Sisterhood series.
B.R. Stateham – "Hotel Beaumont" , "They Call Me Smitty", the beginning of "Death of a Young Lieutenant" and also the beginning of "Roland of the High Crags: Evil Arises"
Giovanni Gelati- "I Have Chrome Balls, Don't You?"
It's a real honor to be a part of this collection. I guarantee you'll have a great time with these stories. They're just plain fun, both to read and to write.
It's out on Amazon right now for $4.99. Yeah, it's the highest-priced thing Trestle Press offers right now. But the value for your dollar is through the gal-damn roof.
Click here to get "The Ultimate Six-Pack" on Amazon.
Nookies, look for it to hit Barnes & Noble soon.
Click here to get it from Smashwords for all e-reader formats or to...