OK, this isn't actually my ebook - it's by my friend Steven Torres.  I had a hand in it, though.  I urged (okay, demanded) that he put together some of his stories, and even volunteered to format it for him.  I think it came out pretty well: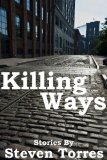 There are ten stories in all - two brand new stories about Ray Cruz, a mob enforcer in 1970s New York City; four stories about Russian mercenary Viktor Petranko, and an excerpt from the Petrenko novel Man Of Disaster; and three horror/urban fantasy/science fiction stories.
If you're not familiar with Steven's work, you can read his Ray Cruz story "Padrino" at Plots With Guns: http://www.plotswithguns.com/10torres.htm
Here's a link to "Killing Ways" at Amazon: http://www.amazon.com/Killing-Ways-Stories-ebook/dp/B004MPRMEG/ref=...