Hey, noir junkies! Pick up your styrofoam cup and get off the sidewalk. Black Heart Magazine is a kick-ass honest-to-goodness magazine based out of Austin, Texas. It touches on a lot of hardcore themes, including noir in its latest issue.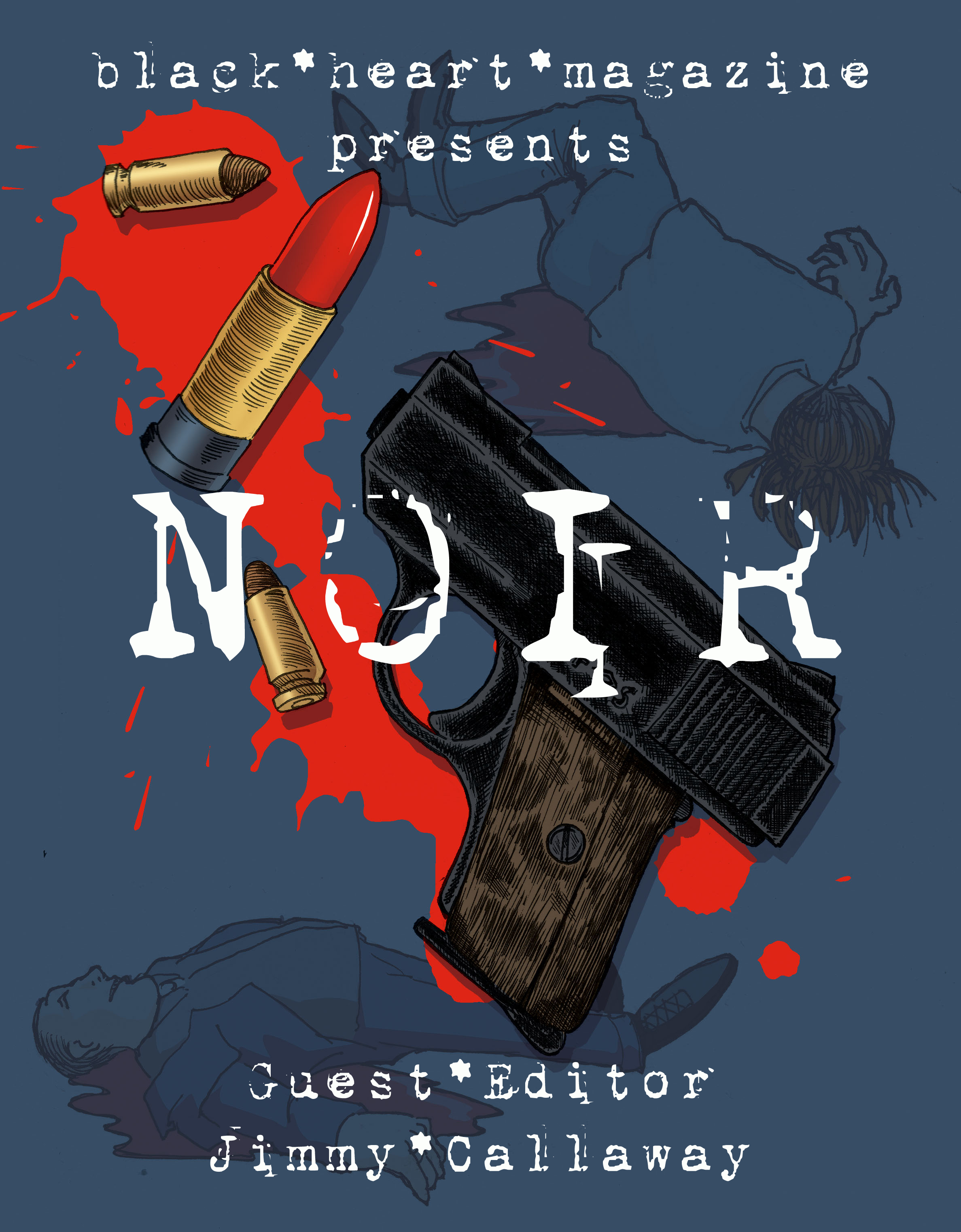 The lineup for this magazine includes short stories from the creme de la creme of the 'net's best crime authors. Guess what? One of them is me. And I'm not even licking stamps this time.
Here's the full rundown from Black Heart Magazine itself:
This is the first of our new digital anthologies, featuring the works of old-schoolers and newcomers to the noir/crime-fiction genre, and we hope you enjoy it. Packed with 64 pages of short, dark fiction and even shorter (and darker?!) poetry, plus some truly terrific artwork (such as our kick-ass cover, at left), there's a little something for everyone with a hole in their soul—or a few bullets where there oughtn't be.
Guest edited by crime fiction enthusiast, web writer extraordinaire, and occasional Black Heart contributor Jimmy Callaway, this anthology is a gritty paradise filled with girls and gangsters, bathed in whiskey and ringed with puffs of smoke issuing from lipstick-smeared cigarettes. Bodies, both living and dead, will point their guns your way just to keep you riveted to your seat.
Our full contributors list of responsible parties includes:
WRITERS
* Cameron Ashley
* Christopher Benton
* Josh Converse
* Chris Deal
* Garnett Elliott
* Matthew C. Funk
* James Gibbons
* AJ Hayes
* D.S. Jones
* David Jordan
* Nik Korpon
* Alexander Kraft
* Mary Long
* Chuck Marecic
* Richie Narvaez
* Dan O'Shea
* Dale Patterson
* Keith Rawson
* Stephen D. Rogers
* Kieran Shea
* Benjamin Sobieck
* Leland Thoburn
* Jonathan Woods
* Changming Yuan
VISUAL ARTISTS
* Nora Costello
* Michael Fugere
* Sophie Newman
COVER ARTISTS
* Brian Roe
* Ronda Pattison
GUEST EDITOR
* Jimmy Callaway
EDITOR-IN-CHIEF
* Laura Roberts
To buy a copy in your preferred ebook format, please click here to be transferred to Smashwords.
NOTE: If you prefer to purchase a PDF version for reading on your computer (or elsewhere), our Payloadz store version is of slightly higher quality and costs the same as the Smashwords version.