A fantastic review of 4 Funny Detective Stories - Starring Maynard Soloman from Detectives Beyond Borders: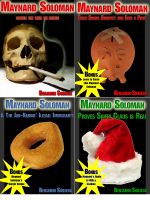 "Maynard Soloman is an American archetype — solo man. Get it? — roaming the heartland alone, free of emotional commitments, fighting for the little guy, his only goals self-preservation and righting wrongs.
"Except he and the stories in which he appears are funnier than all that. His steed is a decaying Winnebago motor home on which a vandal has spray-painted that Maynard Soloman Investigation Services SUKS!, and Soloman is on the run not from outlaws or marauding Comanches, but from unpaid medical bills.
"The titles of the 4 Funny Detective Stories — Starring Maynard Soloman say much about author Benjamin Sobieck's targets: Maynard Soloman Solves the War on Drugs, Maynard Soloman Fixes Social Security and Eats a Pony, Maynard Solomon & The Job-Nabbin' Illegal Immigrants, and, in a story that comes as close to heart-warming as the old cuss gets, Maynard Soloman Proves Santa Claus is Real.